News and Announcements
---
Band Take Time for Hurricane Victims
Wildcat Band Take Time for Hurricane Victims in East Dallas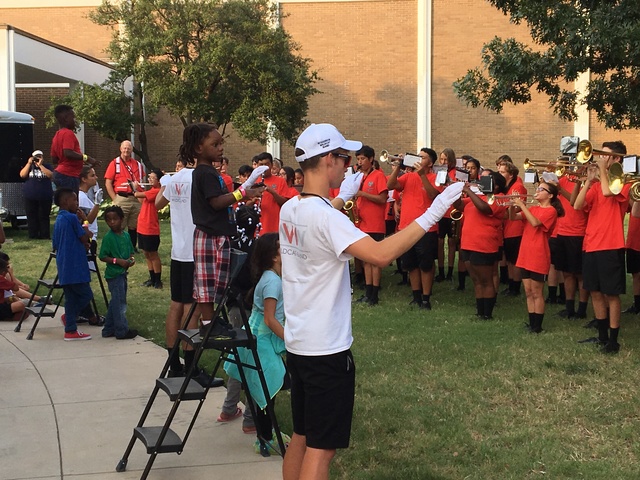 According to Chris Evetts, director of bands at Woodrow Wilson High School, many of the band students were visibly shaken and affected by the aftermath of Hurricane Harvey and wanted to help in some way immediately after school started this week. 
Several of the Band Leadership Team (BLT's for short) took it upon themselves to come up with something that they could do to help support the families and children here locally.  When the City of Dallas parks and Recreation opened up Samuell Grand Park as shelter for Hurricane evacuees, the conversation turned to action.  Several of the band members went to the shelter to see how they help. 
The band immediately put a call out to peers to at least make a showing and entertain the families over the holiday weekend. This past Saturday, September 2nd was that day.  Over 60+ band students showed up late afternoon at the school and the group marched in formation from the school to Samuell Grand Park, about 1/2 mile away playing their instruments and having the neighborhood cheer them on as they made their way forward.  While at the center, the students allowed the smaller children to explore the wonders of music by allowing them to play some instruments and even lead the band as co-drum majors.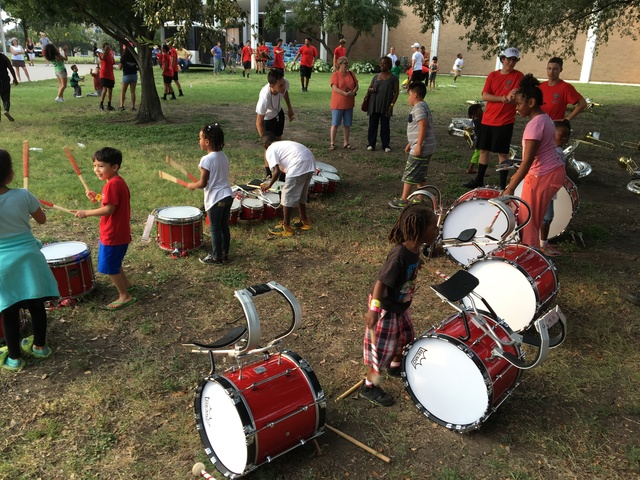 "Many of the students gave up opportunities to go out of town with family to be here this weekend..." Mr. Evetts said.  The band played music for the group and other volunteers there for over an hour.  The band leadership team has more things planned to further help the Hurricane Harvey victims. 
Musical: The Music Man
For the Spring Musical we have announced Meredith Wilson's the Music Man.
Auditions will be in November and the production has been set for April 19-22.
For Fall Play we have announced Mary Zimmerman's The Secret in the Wings.
That production will be October 20-23 (Fri-Mon).  It is a play that combines several obscure and dark fairy tales into a beautiful theatrical event.

For our Freshman Play we will be doing Zink:  The Myth, The Legend, The Zebra
Dates are TBA at this time but likely in November.

UIL One Act Play:  Title TBA, Auditions in December.
Athletic News